OVERVIEW
Creating avenues for students in the world today is not a difficult task but challenging certainly. Knowing that learning is actually acquired not taught and advocating the theory of having students under observation and care throughout the day, SESOMU School promotes the system of Hostels. The school has 3 boarding hostels : Senior Boys Hostel, Junior Boys Hostel and Girls Hostel.
Huge emphasis is laid on their all round development. Comprehensive and quality education is imparted in all sincerity and earnestness, not only by way of the formidably high academic standards, but also developing all faculties of the intellectual, physical and ethical personality. The essence of our educational pattern is to help children grow up to become rational intellectuals, socially concerned human beings and to foster desirable attributes of character like honesty, courage, self confidence, integrity and resourcefulness with a view to make them morally strong and socially responsible.
The mentors are always up in moulding the wet clay to take a socially acceptable form and encourage them to become trendsetter of future. It aims at imparting the much needed education of today. The Hostel buildings are designed to cater to the needs and comfort of boarders.
THE JUNIOR HOSTEL
To accomplish the aspiration we facilitate the children to develop physically and piously. The Junior Hostel has 7 spacious dormitories with a total capacity to accommodate 85 children. All the dormitories are furnished and all the children are provided with separate cabinets to keep their personal things. All the children have spacious dormitories with study tables and chairs. Water coolers are placed at various blocks. The children are provided healthy balanced food in the air cooled dining hall. Clothes are washed in school laundry twice in a week. The Hostel Warden and Mentors take care of their personal hygiene, food, home work and their enchanting touch make them feel that hostel is "Home Away From Home".
THE SENIOR HOSTEL
The Senior Hostel started its journey in the session 2006-07. Like a real home it fills the hearts of students with feelings of security and provides them with all opportunities to develop physically, mentally, intellectually, emotionally and socially. The Senior Hostel accommodates 140 students from classes IX to XII. It has 35 rooms, a common room and three house Master's residences in it. All the rooms and dormitories are built around a lush green ground with beautiful trees. Each room can accommodate four students. Each floor has common lavatories and bathrooms with 24 hour water supply. It has a separate cupboard section and a furnished study room to facilitate the students with self study. Two big water coolers installed at two different locations fulfill the need of drinking water of students. Common room provides the students with entertainment facilities like T.V., Table Tennis, Carom, Chess etc. during leisure time. Telephone facilities are provided for the children to communicate with their parents and relatives.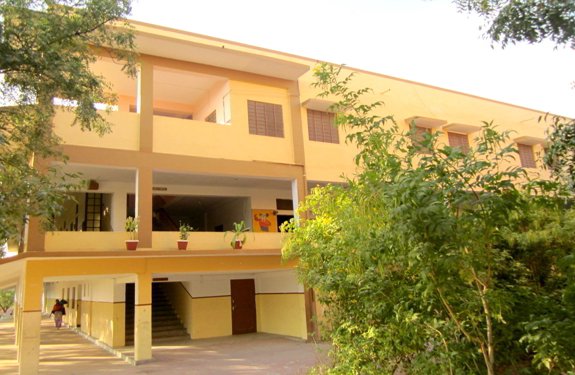 THE GIRLS HOSTEL
The Girls Hostel started its journey in the year 2002 and a newly constructed Girls Hostel was established in the year 2012. The feeling and willingness of the Lady Hostel Warden to spell out love for the inmates knows no bound. Finding newly constructed hostel, new beds, new everything is like a little bundle of joy for the girls of this hostel. The infrastructure is of newly designed one. The strength of this hostel is 20 at present. Two Hostel Wardens are ever ready to set things right if anything seems likely to go wrong. Another best thing is that motherly care inevitably pops up between the girls when they sometime feel homesick.
The Girls Hostel accommodates 48 students from classes III to XII. It has 8 well furnished spacious rooms, a common room and one hostel warden residence in it. Each room is equipped with six beds, each with a study table, chair, inbuilt cupboard, book rack with adequate ventilation, lighting and uninterrupted power supply. Water cooler attached to the hostel provides soothing chilled water in summer. Self study room and TV room make room for constructive activities like get together and discussions. Indoor games like carom and Table Tennis engage the girls at dusk. Local/STD/ISD phone facility has been made available through school PCO in stipulated days of the week to students. CCTV has been roped in providing 24 hours of safety and security.